Mobility aid sellers put in spotlight by OFT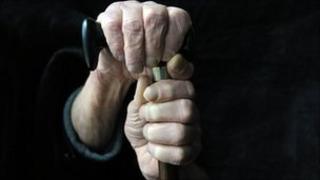 Action has been taken against mobility aid traders in the UK following a warning from the regulator over sales of the products.
In September, the Office of Fair Trading (OFT) raised concerns about sales of stairlifts and other aids to elderly and disabled people.
Now it has removed the credit licences of two people, and overseen a revamp of contracts by another firm.
Investigations are also continuing into doorstep sales by a national trader.
Licence removal
Last year, the OFT said it had received thousands of complaints about sales of these aids, such as stairlifts, scooters, special chairs and adjustable beds.
Some victims found the equipment they were promised failed to turn up or was overpriced.
There is nothing to prevent traders knocking on doors, although there are rules on what they can do once they gain entry to a potential customer's home.
The regulator has now revoked the consumer credit licences of Amarjit Gill and his business associate Ranjit Dhami over concerns about how they sold mobility aids.
Amarjit Gill, who traded as ABM Mobility, breached consumer protection legislation, including using aggressive sales techniques, despite warnings from Derbyshire Trading Standards.
Ranjit Dhami held a separate licence and had traded as A.B.M., Phoenix 1000, Eurostar, Star Enterprises and Phoenix Enterprises. She was judged unfit to hold a credit licence by the OFT because of her association with Amarjit Gill's business.
A separate investigation into Yorkshire-based Acorn Mobility Services Limited has led to the company amending its contracts to change potentially unfair terms, and to overhaul its customer service procedures.
"We warned traders that unless they stopped using aggressive sales techniques and unfair business practices to sell mobility aids they would face enforcement, and that is what we are doing," said OFT director David Fisher.
"We will take further action, working in partnership with local trading standards services, if there is evidence of unfair trading or where fitness to hold a credit licence is called into question."