'Most' Portuguese unions back cuts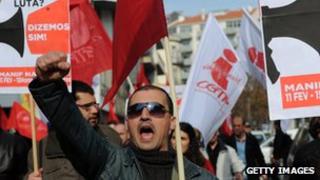 The majority of Portuguese unions back the government's austerity measures, Portuguese Economy Minister Alvaro Santos Pereira told the BBC on Friday.
Portugal was hit by a transport strike on Thursday and so far the government has not reached an agreement to prevent further strikes.
Mr Pereira said the transport union strikes were "localised".
Portugal saw its cost of borrowing soar over 17% on 10-year bonds this week amid investors' fears of a default.
Mr Pereira cited four government policies as proof that the economy was on course: new labour laws, new competition laws, cuts to public spending and changes to licensing laws which are due to take effect in the coming weeks.
Social consensus
The economy minister said the government already had a three-year agreement with the country's largest unions, and that this "social consensus" would show the world that the country could lift itself out of its current situation.
However, although a large umbrella union, the UGT, and others, signed up to the government reforms, the biggest union - the CGTP - withdrew from the collective bargaining talks in January and did not sign the pact.
The reforms are seen by economists as essential to lower Portugal's borrowing costs, lowering the risk of a future default.
"The Portuguese government took the window of opportunity provided by the crisis to push through long overdue structural reforms, particularly in the labour market," said Professor Rui Esteves of the department of economics at Oxford University.
"This has been so far facilitated by a relatively muted reaction from society, and organised labour in particular. This clearly shows that Portugal cannot be conflated with Greece, where governments have been unable to follow through reforms and there is evidence of greater social unrest."
Bailout funding
Portugal is currently using funds from a €78bn (£64bn) bailout that it agreed with other European countries and the International Monetary Fund in 2011.
Portugal's deal is due to run out in 2013.
The cost of borrowing for the Portuguese government has risen much faster for short-term loans than for long-term loans, reflecting investors' worries that a Portuguese default may be around the corner.
The interest rate which the government has to pay on five-year bonds rose to more than 20% this week, compared with 10-year bonds which have fallen back from their 17% high.