Wall Street hits pre-crisis high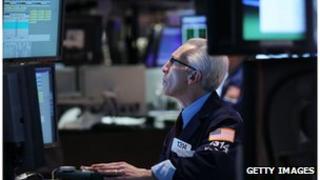 Shares in New York hit levels not seen since before the 2008 financial crisis on Friday after the strongest US job growth in nine months.
The increase pushed unemployment down to 8.3% in January.
The Dow Jones index of leading companies closed up 156,82 points, or 1.23%, to 12,862.23, its highest level since May 2008.
The Nasdaq index, which specialises in technology companies, soared to its highest level since December 2000.
The US Labor Department announced that 243,000 new jobs were created in January causing the unemployment rate to fall to its lowest level in three years.
The results soundly beat expectations from economists that the unemployment rate would continue to hover at 8.5%.
Political boost
The figures are a political boost for President Obama, whose re-election prospects hinge on a sustained economic recovery.
Speaking at a fire station in Virginia, the president warned Congress: "Do not slow down the recovery that we're on."
"Now, these numbers will go up and down in the coming months, and there's still far too many Americans who need a job, or need a job that pays better than the one they have now," added Mr Obama.
"But the economy is growing stronger. The recovery is speeding up. And we've got to do everything in our power to keep it going."
"Now is not is not the time for self-inflicted wounds to our economy. I want to send a clear message for Congress. Do not slow down the recovery that we are on, don't muck it up."