BP ups dividend as profits rise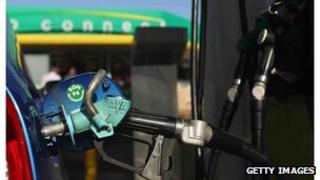 BP has raised its dividend to shareholders by 14%, the first increase since the 2010 Gulf of Mexico spill, following sharply higher profits.
Replacement cost profit, which is profit stripping out the effect of oil and other price movements, for the three months to the end of December 2011 was $7.6bn (£4.8bn).
This compares with $4.6bn for the same period in 2010.
For all of 2011 BP's profit was $23.9bn compared with a $4.9bn loss in 2010.
BP's dividend was raised to 8 cents per share for the fourth quarter of 2011.
Amid intense political pressure, the company suspended dividend payments to shareholders for the the first time in 60 years after the Deepwater Horizon disaster.
Last Updated at 23 Mar 2018, 16:30 GMT
*Chart shows local time
price
change
%
462.45 p

-

-0.85

-

-0.18
"BP's earnings certainly benefited from oil prices, and investors will no doubt welcome the rise in dividend payments," said Saket Vemprala, oil analyst at Business Monitor International.
"However, the legal liabilities stemming from the 2010 Gulf of Mexico oil spill continue to weigh on the company's shares, and we would not be surprised to see a financial settlement between the company and the US government."
BP is asking contractor Halliburton to pay for all costs and damages that arose from the Gulf of Mexico spill. The trial between BP and its contractor Halliburton is expected within weeks.
BP has so far paid out $8.8bn in damages claims.
The blast at the Deepwater Horizon oil rig killed 11 workers and created the worst offshore spill in US history.
BP's profits were boosted by the price of oil which has remained at relatively high levels of about $100 a barrel throughout the final three months of 2011.
Separately on Tuesday, BP's chief executive, Bob Dudley, told the Reuters news agency that the company was set to begin a new project in the Gulf of Mexico.
Mr Dudley said BP had agreed with Chevron and BHP, its partners in the project, to go ahead with the investment.
The US government lifted the ban on drilling in the Gulf of Mexico in October 2011.