UBS profits slump on weak business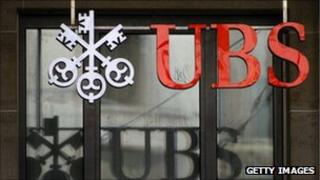 Profits UBS have slumped by 76% in its latest quarterly results.
Net income for the last three months of 2011 were 393m Swiss francs ($430m; £270m), down from 1.7bn francs a year ago and well short of expectations.
Business levels fell both at its key wealth management unit, as well as at its struggling investment bank.
As the eurozone debt crisis rumbles on, the Swiss bank warned that business in the coming three months was also likely to disappoint.
"Traditional improvements in first quarter activity levels and trading volumes may fail to materialise fully, which would weigh on overall results for the coming quarter, most notably in the investment bank," UBS said as it announced its fourth quarter results.
Profits for the full year of 4.2bn francs were down 44% from 2010.
Bonus pool
UBS has never fully recovered from the financial crisis, when it had to be rescued by the Swiss government.
The bank took heavy losses during the 2007-09 financial crisis and recession, reporting a total loss of 39bn francs during the period.
Last year, it lost a further 2bn francs thanks to a rogue trader.
The latest quarter fell well short of its post-crisis average profit of 1.5bn francs, which is itself half the 3bn franc profits the bank typically reported each quarter in the years leading up to the financial crisis.
The Swiss authorities have ordered UBS to massively increase its capital ratio - its risk buffer against future possible losses.
The bank duly announced an increase in its "Basel II core tier 1 ratio" - that is the value of its highest-quality capital as a percentage of its assets, based on the old and soon-to-be-replaced international methodology - from 18.4% to 19.7%.
The firm has also been downsizing its London-based investment bank, following severe criticism of its risk-management practices by Swiss regulators.
The investment bank reported a 256m franc loss for the quarter, mainly due to weak client business during tough trading conditions last autumn when markets feared Italy might be pushed into default.
In response, the head of the investment banking business, Carsten Kengeter, agreed to forego his bonus.
The bonus pool for employees of the bank as a whole has been cut by 40%, and that of the investment bank by 60%.