RBS boss Stephen Hester: 'Prove critics wrong'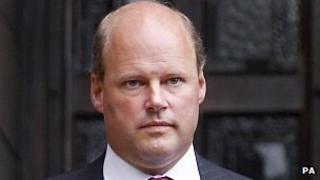 Stephen Hester has broken his silence on the controversy surrounding his bonus in a memo to staff.
The Royal Bank of Scotland chief executive called the recent attention from the press and politicians "discomforting, to say the least".
He told staff the best way to deal with the attention is "to prove the critics wrong".
Mr Hester turned down his controversial bonus, worth nearly £1m, after much political pressure.
The bank was saved by taxpayers at the height of the financial crisis in 2008.
Mr Hester was appointed chief executive at the end of 2008 to replace Fred Goodwin, after the bank had to be bailed out by the government, which now owns 82% of it.
Mr Goodwin was recently stripped of his knighthood.
'Obstacles
Mr Hester has not publicly commented on the furore surrounding his bonus, until the memo to staff.
"While it has been personalised in different ways, whether on myself or my predecessor, many have felt a broader impact on RBS of the uncertainty and criticism," he wrote in the memo.
"We can't control the outside world - whether the economic environment or the political one. That's not unique to us. But if ever something has been proven over our last 3 years of history, it's this - we can successfully overcome great obstacles.
"There is no doubt that our position in the spotlight makes the job harder. And we can't know how much damage that will do to RBS or the interests of those we serve, whether as customers or shareholders. But the best way to deal with it is to prove the critics wrong."
Mr Hester added: "On a personal note, thank you to those many people who have given me messages of support in recent days. It's much appreciated."
He also said that he had the backing of the board and would continue to work to return the bank to long-term profitability.
RBS chairman Sir Philip Hampton also gave up a £1.4m shares reward he was due, and added that banker pay has been "high for too long".
At the time Mr Hester gave up his bonus, Chancellor George Osborne said it was a "sensible and welcome" decision and Labour leader Ed Miliband said the RBS boss had "done the right thing".