Nissan's profits boosted by surge in worldwide sales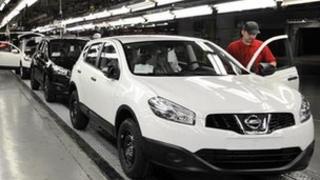 Nissan has reported a 3.6% rise in profits for the October to December quarter despite disruptions caused by floods in Thailand.
Japan's second-largest carmaker posted a net profit of $1.07bn (£674m), up from $1.03bn a year earlier.
Its earnings were boosted by a 19.5% jump in sales. It sold 1.2 million vehicles worldwide during the period.
It has also kept its outlook, which is the among the best for Japanese carmakers, unchanged for the year.
"Nissan has delivered robust sales performance and remains solidly profitable," said Nissan investor relations executive Joji Tagawa.
'Responded decisively'
Nissan's numbers come after a tough year for Japanese carmakers in the wake of natural disasters at home and abroad.
The earthquake and tsunami in Japan in March last year resulted in production being suspended or curbed due to supply chain disruptions.
Later in the year, just as the firms were getting back on track, they were hit by the floods in Thailand that saw production being hurt once again.
To make matters worse, the carmakers have also had to tackle a strengthening Japanese currency, which has risen more than 7% against the US dollar since April last year, making Japanese cars more expensive for foreign buyers.
A strong yen also hurts profits of local companies when they repatriate their foreign earnings.
Nissan said the way in which it handled these issues had helped it overcome the setbacks quickly.
"Significant external headwinds, such as the abnormally strong yen and floods in Thailand challenged us during the third quarter,'' said chief executive Carlos Ghosn.
"Nissan responded decisively to these challenges, boosted by the strength of our product.''
However, Mr Tagawa warned that despite the jump in sales and recovery from the disasters, "the strong yen continues to have a negative impact on full-year fiscal 2011 results".