RBS boss Stephen Hester 'considered resigning'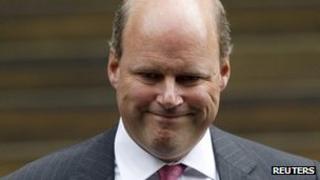 Royal Bank of Scotland chief executive Stephen Hester says he briefly considered resigning during the uproar over his bonus.
Mr Hester told the BBC that he was "not a robot" and said there had been some "deeply depressing" moments.
He was speaking in his first broadcast interview since he turned down a bonus worth almost £1m last month.
However, the chief executive said it would have been "indulgent" of him to resign.
Time bomb
Mr Hester said that he faced a huge challenge when he took control of the bank three years ago.
"I had to replace the whole senior management team at RBS," said Mr Hester.
"Not just people to run the bank well, but to defuse the biggest time bomb in history in terms of bank balance sheets."
Bonuses awarded in the banking industry have caused much controversy. Speaking to BBC Radio 4's Today programme, Mr Hester agreed that bankers had been overpaid.
"One of things that happens when you have a long period of expansion is that you can get overconfidence.
"In the case of the banking industry, I think there was both overconfidence and, with the benefit of hindsight, over-rewards."
Mr Hester was appointed chief executive at the end of 2008 to replace Fred Goodwin, after the bank had to be bailed out by the government, which now owns 82% of it.
Mr Goodwin was recently stripped of his knighthood.
Mounting losses
The BBC's business editor, Robert Peston, highlighted Mr Hester's comments on the rising cost of rescuing RBS.
"He used the astonishing phrase that the £45bn we as taxpayers have injected into Royal Bank of Scotland to save it had been 'lost'," says our business editor.
"What he meant by that is that the £45bn was never enough to cover all the costs of writing off RBS's bad loans and investments, selling and closing bad businesses and making the bank more efficient."
In a memo staff to staff on Tuesday, Mr Hester said the cost so far had been £38bn.
Politicians have been keen to stake out a position on the issue.
Business as usual?
Labour deputy leader Harriet Harman told BBC Radio 4's World At One: "He [Stephen Hester] was obviously right to waive his bonus, but my concern is that some in the banking sector are hoping that the dust will settle and then they can get on with business as usual.
"That's why we need change, we need an employee on the board dealing with bonuses and remuneration, we need publication of all bonuses above £1m and we need a tax on bonuses."
Conservative Party co-chairman Baroness Warsi told the programme: "I think Stephen Hester made a strong case, a very good case, that it is important that there is that link between success and reward.
"It is important we don't go down this debate of saying that anybody who gets out there, works hard, creates businesses, makes money for himself or herself and other people as well, that somehow that is wrong."