Daimler posts record profits and sales in 2011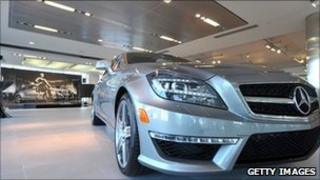 German car and truck maker Daimler has said it achieved record sales and profits in 2011.
The company, which owns Mercedes-Benz, reported a 29% rise in net profits to 6.029bn euros ($8bn; £5bn).
Underlying profit, measured as earnings before interest and tax, rose 20% to 8.755bn euros, on revenues up 9% to 106.5bn euros.
Vehicle sales rose 11% to 2.11 million, with Daimler saying that Mercedes had "never performed better than in 2011".
"We achieved our best-ever results in 2011 for unit sales, revenue... and net profit. All of our divisions contributed to this success," said Daimler chief executive Dieter Zetsche.
In the fourth quarter alone, net profit soared 57% to 1.785bn euros and revenues climbed 10% to 29.066bn euros.
Daimler said that it expected sales to "increase again significantly this year and that revenue will also continue to grow," driven by emerging markets.
However, the company warned that the eurozone debt crisis would weigh on the European car market, which it expects to remain flat in 2012.
Daimler's shares rose 5% to 46.84 euros in morning trading in Germany.