UK repossessions lowest since 2007, says CML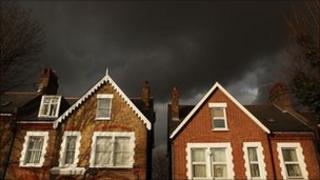 A total of 36,200 UK homes were repossessed in 2011 - the lowest annual total since 2007, mortgage lenders have said.
The annual total proved to be lower than the Council of Mortgage Lenders' original forecast of 40,000.
Low levels of interest and forbearance by lenders have kept a lid on the numbers.
However, the lenders' group said that higher unemployment would push up home repossessions in 2012.
Extra support
The annual total for 2011 was down slightly on 2010, when 37,100 homes were repossessed.
The latest figures show that 8,500 homes were repossessed in the final three months of 2011. This was down 9% on the previous quarter, but up 5% from the final three months of 2010.
The number of people falling into arrears on mortgage payments improved slightly on a year earlier, the CML said.
At the end of 2011, 159,400 mortgages had arrears equivalent to 2.5% or more of the mortgage balance. This was 7.5% down on the number at the end of 2010.
"Remember that arrears management still sees arrears slowly build up. At some point those debts have to be paid down," said David Birne, an insolvency practitioner at HW Fisher and Company.
Meanwhile, Housing Minister Grant Shapps said the government would pay for extra support for homeowners facing difficulties.
Councils will be given £19m to offer to struggling homeowners in interest-free loans of less than £5,000, or grants, to help ease debt pressures.
Another £1m will extend a service available in the county courts, giving free on-the-day legal advice to those facing home repossession hearings.
"Repossession should only ever be the last resort. No one in financial difficulty should be embarrassed to seek help if they need it," Mr Shapps said.
Take advice
Even with sales forecast to hit a record low in 2012 - the CML said the chances of people losing their homes would increase in 2012.
"Low interest rates and good arrears management by lenders are helping the vast majority of those borrowers who face difficulties to keep their homes and get back on track," said CML director general Paul Smee.
"This will continue, but in the face of wider economic difficulties and rising unemployment, we are concerned that there will be a higher number of people facing more serious problems in 2012.
"Anyone worried about their finances should talk to their mortgage lender and take advice on their other debts as soon as possible. This will give them the best possible chance of staying in their home even if they have a spell of financial difficulty."
The CML has forecast that repossessions will reach 45,000 in 2012. This remains much lower than the peak of 75,500 in 1991.
Arrears on buy-to-let mortgages were lower than owner-occupied properties, but the repossession rate in the sector was higher.
In 2011, 0.42% of all mortgaged buy-to-let properties were repossessed - 5,900 in total.
By comparison, the 36,200 owner-occupied homes that were repossessed amounted to 0.32% of mortgaged owner-occupied properties.
The CML said lenders had made strenuous efforts to show sympathy to homeowners in arrears to try to help them keep their homes. However, it was less of an imperative in the buy-to-let sector where there is a greater turnover of properties and mortgages.
Tenants rights were unaffected if landlords defaulted, it said.
Court proceedings
Separate figures from the Ministry of Justice revealed the situation for homeowners in England and Wales at an earlier stage in the repossession process.
There were 17,890 repossession claims - the earliest stage of the process - issued in the courts in the fourth quarter of last year, a 1% rise on the previous quarter.
This led to 13,607 repossession orders being made, 2% lower than in the third quarter of 2011. Around 49% of the orders were suspended, giving a clue to some of the leniency shown.
Suspension usually requires the defendant to pay the latest instalment of cash owed, plus some arrears, within a certain period. As long as they comply, the possession order cannot be enforced.
The north-west of England had the highest numbers of mortgage claims and claims leading to orders per 1,000 households. The lowest numbers were in the south-west of England.