Redknapp tax trials cost £1.3m so far, HMRC says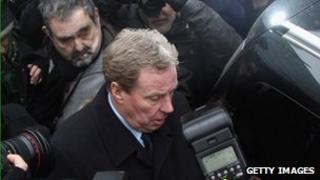 The trials into alleged tax dodging - one of which involved football manager Harry Redknapp - have cost under £1.3m so far, HM Revenue & Customs says.
HMRC told the BBC that rumours it had spent £8m on the case were "nonsense".
It said the costs of investigations into Mr Redknapp, Milan Mandaric and Peter Storrie cost less than £300,000 while Crown Prosecution Service costs were almost £1m.
All three have been cleared of tax evasion at two trials.
"The fact is it has cost us less than £300,000 and whilst we would rather have won the case, the important thing was to get the facts in front of a jury - and that has happened," said a spokesman for the tax authorities.
"There's been a lot of nonsense talked about the cost of this investigation to HMRC."
On Wednesday, Tottenham Hotspur manager Mr Redknapp and former Portsmouth Football Club chairman Milan Mandaric were cleared of two charges of cheating the public revenue over £189,000 of payments.
And it was revealed that Mr Mandaric and Mr Storrie, Portsmouth's former chief executive, were cleared of tax evasion charges at a separate trial last October.
Further costs
The cost of the trial to the public purse will have been far higher than just the cost of HMRC's investigation because of the costs of bringing the cases to court.
The CPS bears its own court costs.
At the end of 2011, these stood at £944,782 for the employment of external barristers to argue its case during two trials related to accusations of tax dodging by senior executives at Portsmouth.
Further costs were incurred in the immediate run-up to the trial and during the trial itself but the CPS said it had not yet received the final invoices from the barristers, Mr John Black QC and his junior counsel.
Since the second trial - of Mr Redknapp and Mr Mandaric - only occurred this year, there are more bills due.
The CPS said it would be up to the trial judge to decide if central funds should paid for any of the legal costs of the successful defendants, but they would have to apply first.
Mr Redknapp is being widely touted as the likely successor to Fabio Capello, who resigned as the England football manager on Wednesday, coincidentally just a few hours after Mr Redknapp was cleared at his trial.
Mr Mandaric is the current chairman of Sheffield Wednesday football club.
The charges related to their time early last decade when Mr Mandaric was the owner of Portsmouth and Mr Redknapp was the team manager.