UK producer prices up 0.5% in January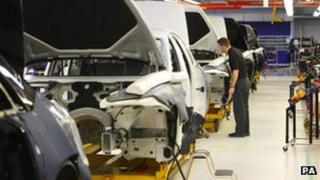 UK producer prices rose 0.5% in January from December as the cost of alcohol, fuel and clothes rose, figures show.
In the year to January 2012 output inflation was 4.1%, down from a rate of 4.8% in December and the lowest annual rate since November 2010.
Input cost inflation also slowed, falling to an annual pace of 7% in January against 8.9% in December.
However, Scotia Capital economist Alan Clarke said the figures were "on the high side of expectations".
Some policymakers have warned that a renewed spike in oil prices could keep overall inflation up, and January's data showed that a price rise in crude oil was the main driver of the rise in input prices.
The Bank of England has forecast that consumer price inflation will fall this year from the current rate of 4.2% and dip below its 2% target towards the end of 2012.
Separately, Office for National Statistics construction data confirmed that the sector shrank by 0.5% in the fourth quarter, when the overall economy also contracted.