NYSE Euronext profits hit by cost of failed merger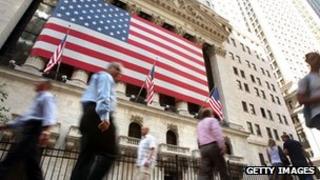 Profits at NYSE Euronext have been hit by the collapse of its planned merger with Deutsche Boerse.
It reported a fall in fourth quarter net income of 19% to $110m (£70m).
Last week European officials blocked the deal with Deutsche Boerse, saying the two would dominate the trading in Europe of some financial products.
NYSE Euronext, which operates the New York Stock Exchange, said costs relating to the deal and its collapse amounted to $46m (£29m).
Alternative strategy
The group also operates stock markets in Paris, Brussels and Amsterdam, as well as the London-based derivatives market Liffe.
In a statement accompanying the fourth quarter results, chief executive, Duncan Niederauer, said: "We are extremely disappointed with the decision, and as I have stated, we believe that it stems from a fundamentally different view of the competitive dynamics in the global markets."
The company is now working on an alternative strategy, details of which will be released at an investor day in April.
In the meantime, NYSE Euronext has launched a programme to spend $550m on buying back its shares.
It has also promised to expand its derivatives trading business.
There has been speculation that NYSE Euronext is considering a bid for the LCH Clearnet clearing house.
LCH works as a go-between buyers and sellers. It ensures that a deal will go-ahead if one of the parties fails to pay-up.
The London Stock Exchange is in talks to buy a controlling stake in LCH.