Israeli union federation ends five-day national strike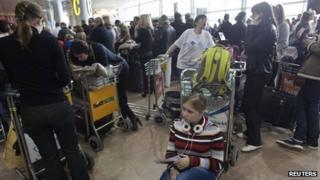 Israel's main trade union federation has ended a five-day nationwide strike which closed government offices, the stock exchange and key transport hubs.
Histadrut began the protest on Wednesday to try to improve the pay and conditions of 250,000 contract workers.
The workers, often cleaners and security guards for the government, were paid less and had fewer rights than directly employed permanent staff.
The Israeli government has agreed to give them a 20% pay increase.
They will also become eligible for bonuses and have improved pensions and holiday pay.
Histadrut originally was pressing for the government to employ the workers directly, but has accepted the enhanced terms offered by the government.
A deal with private sector businesses that employ such contract workers was struck last week.
They agreed that employees who have worked full time for at least one year would be hired directly rather than through an employment agency.
At that time, the government held back from signing an improved deal, saying it could not take on so many new workers.
The strike had a wide-ranging impact, at one point putting Tel Aviv's Ben-Gurion International Airport out of action.
It also affected hospitals, banks, the national electricity company, as well as ports and the rail service.
The Israeli Chambers of Commerce put the cost of the action at about $100m (£63m) a day.