Domino's Pizza profits rise as online sales jump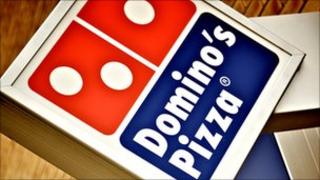 The UK's biggest pizza delivery firm, Domino's Pizza, has reported rising profits helped by a rapid increase in online sales.
Profits for the year to 25 December rose 14.6% to £43.6m, with online sales surging 43%.
Orders made online now account for 44% of total sales.
The company, which operates franchises in the UK and the Irish Republic, also benefited from the opening of 62 new outlets, giving it a total of 726.
Same-store sales in the UK rose by 3.7% and in the Irish Republic, which has been in recession, they were up by 2.3%.