How is Africa coping with the euro crisis?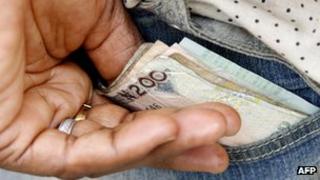 Africa emerged relatively unscathed after the financial crisis fuelled by the collapse of Lehman Brothers in 2008, but how is it coping with the current economic woes in the Eurozone?
According to Mthuli Ncube, the chief economist and vice-president of the African Development Bank (ADB), the crisis is being channelled to Africa by various means.
"Some countries are being hit by the downturn in trade and the availability of trade finance," he says.
Meanwhile, middle income countries with more advanced financial markets are being affected by how they are perceived by the credit rating agencies - the lower the rating, the more difficult it is for some governments to borrow money on the international markets.
He explains how some countries are losing revenues from tourism, particularly as many visitors to the continent originate in Europe.
"There are also countries like South Africa, which have highly developed equity markets and whose portfolios are being affected by the crisis," he says.
One of his main concerns is how long the effects of the current crisis in Europe will linger.
Meanwhile, many African countries are big exporters of industrial raw materials and can be badly affected whenever the price of commodities drop - just as some are hit by any fall in the price of oil.
However, Mr Ncube does not seem to be unduly perturbed.
"As long as China is growing above the 7% level then a dip in commodity prices won't affect African countries too badly," he says.
Domestic growth
The potential for domestic growth was spotted by Hurley Doddy of Emerging Capital Partners more than a decade ago.
"We find Africa an exciting investment destination," he says.
"You have a very big, fast-growing market. In the last 10 years it has grown two-and-a-half times faster than any of the developed markets and has the potential to keep growing at that rate.
"When we first invested in the telecoms company Celtel in 2000, it only had about 40,000 subscribers in six countries," he says.
"By the time we got out of that investment in 2005 they had over five million subscribers in 13 countries, so it was a phenomenal growth story."
Some fund managers regard Africa as being not so connected to the rest of the world, and they subsequently look upon the continent as another source of growth.
The growing Africa consumer class is also becoming increasingly capable of sustaining demand for the goods and services offered by African businesses.
That is part of Africa's dynamic growth story - the domestic middle class.
Unreasonable worries?
The middle class in Africa has been growing over 3% per annum, which is faster than the overall population growth.
Many investors are sceptical about the political risk, especially when there is a shaky, or even non-existent, democratic system operating in some countries.
However, Mr Ncube says the spread of democracy has been quite steady over the past decade or so and the political risks have dropped significantly.
Mr Doddy maintains that Africa is really hurt by the perception that investing is a high risk.
"We have found through investing there long term, in a variety of countries, the risks are much lower than perceived," he says.
"This has actually helped us because Africa is one of the few places which is not awash with money and awash with people looking for deals, so it allows us to invest in excellent companies with much less competition than you would find for Indian or Chinese companies."
The International Monetary Fund forecasts that within 10 years seven out of the top 10 fastest-growing countries in the world will be in Africa.
"We see growth all across the continent - Africa grew in 2009 when the world was in the midst of a financial crisis and it can repeat that growth in 2012," Mr Doddy notes.
While it is true that growth figures look good because they started from a low base, Mr Doddy explains that there is a lot of room to bring in the business models and the technology being used in the rest of the world.
"Other reasons are the demographics - a young and growing population, with more people moving into the workforce," he says.
Then there is the scarcity of commodities and land around the world, and that helps the African growth story and that looks set to continue for another decade.
"The final thing which is helping Africa grow is the low levels of debt, partially because of debt relief, but mainly because there has not been a lending boom," he says.
It has traditionally been hard for African consumers or companies to have access to large amounts of debt, but that is now proving to be an advantage.