Wall Street close reaches pre-crisis high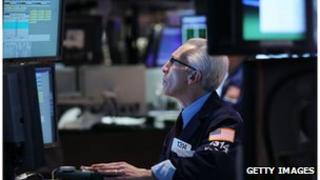 Shares in New York hit levels not seen since before the 2008 financial crisis on Thursday after good news regarding unemployment figures.
The weekly report of new claims for unemployment benefits fell to their lowest level since March 2008.
The Dow Jones index of leading companies closed up 122.76 points, or 0.96%, to 12,903.71, its highest level since May 2008.
The tech-based Nasdaq index soared to its highest level since December 2000.
Meanwhile, the broader S&P 500 index touched its highest point since May 2011.
It came as weekly applications for unemployment benefits fell to a seasonally adjusted 348,000, the Labor Department said.
As well as being the lowest number in almost four years, unemployment applications have dropped by 11% in four months.
There had also been positive earnings news during the day from carmaker GM.
It unveiled record profits for 2011 and saw its shares soar by 9%.