Asian shares up on recovery hopes amid positive US data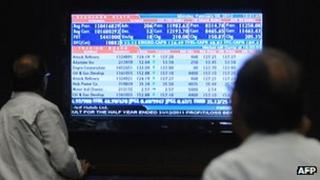 Asian markets have risen on hopes of a recovery in the US after the world's biggest economy reported better-than-expected jobs data.
Japan's Nikkei 225 index rose 1.6%, South Korea's Kopsi gained 1.3% and Australia's ASX added 0.3%.
On Thursday, data showed new claims for unemployment benefits in the US fell to their lowest level since March 2008.
As a result, US shares closed at their highest level since the 2008 financial crisis.
The Dow Jones index of leading companies closed up 1% at its highest level since May 2008, while the tech-based Nasdaq index climbed 1.5% to its highest level since December 2000.
Allaying fears
Some of the biggest economies in Asia such as China, Japan and South Korea rely heavily on exports to boost their growth and the US is one of the key markets for their goods.
However, the high rate of unemployment in the US has not only hurt growth in its economy, but also hurt demand for Asian goods.
A recovery in the jobs market is seen by most economists as key to an overall US economic recovery.
Analysts said that, given its impact on consumer confidence, US jobs data was also closely monitored by Asian firms.
"It is among the top two or three factors that exporters in the region look at," Arjuna Mahendran of HSBC Private Bank told the BBC.
"When we started the year, economists were unanimous in their opinion that it will be a weak job recovery, but the statistics have belied that so far."
Mr Mahendran added that a sustained recovery would help the region's exporters to grow.
Greek factor
Market sentiment was also lifted by hopes that a bailout deal between Greece and eurozone leaders may be finalised early next week.
An approval of that deal would see Greece get a130bn-euro (£110bn; $170bn) bailout package that would help it avoid a potential default.
Last Updated at 06 Apr 2018, 06:45 GMT
value
change
%
21567.52

-

-77.90

-

-0.36
Like the US, the eurozone is one of the biggest markets for Asian goods, and stability and growth in the region is important for Asian exporters.
There have been fears that a Greek default would dent confidence in the region and hurt its growth further.
Analysts said that despite the recent differences between leaders from Greece and other eurozone countries, a deal was likely to be reached soon.
"It's a long, hard struggle, but the general view is that, eventually, there will be some solution because a Greek default is not in the interests of the eurozone members such as Germany," said Philippe Gijsels of BNP Paribas Fortis Global Markets.
Some analysts said that fears of a global impact of a Greek default were subsiding.
"People are increasingly of the opinion that, although Europe will continue to have flare-ups, it's not likely to become a calamity for the world economy," said Jim Paulsen of Wells Capital Management.