Anglo American forecasts robust demand for commodities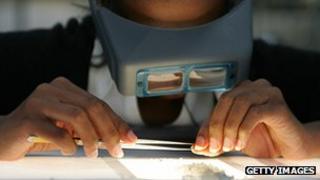 Mining giant Anglo American has said it expects demand for commodities to remain "robust".
The forecast accompanied Anglo's 2011 results, which showed operating profits rose 14% to hit a record $11.1bn (£7bn).
A strong performance by its iron ore business offset weaker prices and volume for its copper operation.
Profit before tax was $10.8bn, down slightly on 2010's figure which was boosted by the sale of assets.
"Sustained growth in the emerging economies should underpin robust demand for commodities, albeit with a degree of short-term volatility, while the signs of economic recovery and stimulus in the US. should provide a further fillip." said company chief executive Cynthia Carroll in the earnings release.
In November last year, Anglo agreed to take a controlling stake in the diamond producer De Beers, by buying out the Oppenheimer family.
Diamond prices jumped by more than a third last year, which helped De Beers report a 62% rise in profits last year to $698m.
Investment
Anglo's biggest individual unit is Kumba Iron Ore, which saw operating profit jump 23% to $4.5bn.
The company is expanding the iron ore business with a huge project in Brazil and is exploring West Africa for new deposits.
Investment in those new operations has prevented Anglo from raising its payments to shareholders.
"We have a significant capex [capital expenditure] programme in 2012. We expect to spend around $7bn as we are ramping up the Minas Rio [Brazil} project," said Finance Director Rene Medori.
"We did not think it was appropriate at this stage to pay a special dividend."