Coventry at Work: Development is key to recovery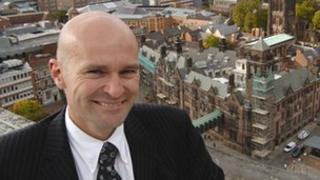 Cranes on a skyline always gladden the hearts of those of us working in regeneration. They're visible symbols of change, new development and progress in a city.
In Coventry, regeneration schemes have never been as important as now. It's vital developers continue to be prepared to invest in our city despite the economic climate we're operating in.
It's a tough ask at the moment, and our success over recent years in attracting investment into the city has to step up a gear.
Ambitious city centre schemes - bringing with them shops, restaurants, cinemas and new homes - can be a gamble even in good times; in times like these the stakes are higher, but the benefits to local people even more important.
That's why the launch earlier this month of a £300m development scheme for part of our city centre is crucial for our future, and a sign of how times are changing for city centre developments.
The scheme will work because it will depend on both private and public sector stepping up to the plate and delivering together.
Tired shops
Councils like ours don't have masses of capital funding any more to invest, so we need to provide other ways of supporting the private sector to make the plans reality. That includes making our processes as swift and efficient as possible - not necessarily sweeping away the red tape, but finding ways through it that work for both the developers and ourselves.
We can't let the people of Coventry (and the developers) down by allowing identikit shopping malls to spring up to replace the tired shops that have grown up since the city centre was rebuilt after the war.
So our end of the bargain will include making sure that the pavements, benches and green spaces around the new centre are of good quality, built to last and work for shoppers and shop owners alike.
It's a good sign that this blueprint has been developed with private sector and development experts who think it will work even in the current economic climate. It's probably the first major city centre development scheme in the region that's emerged and been born out of the new economic reality.
Partly this is because, frankly, our city has a long way to go to deliver the shopping offer it should for a city of our size and location. We're the eleventh largest city in the country, but forty-ninth in terms of our retail offer.
So, how quickly will we see cranes in the sky in this part of Coventry? Our best bet is that the first spade could be in the ground in late 2014, or early 2015. That's pretty ambitious, but it can't come soon enough for Coventry people.