High Streets are bleak as shoppers hold back, says BRC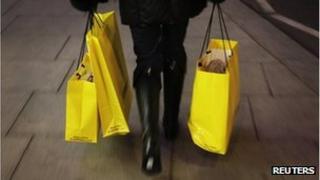 Conditions on High Streets are bleak as customer numbers fall, the British Retail Consortium (BRC) has said.
Figures from the organisation, which represents most major retailers in the UK, show footfall - which measures customer numbers - was down 0.9% in January compared with a year ago.
Footfall was also down 0.9% at shopping centres, with only out-of-town shops seeing a rise of 0.7%.
The BRC said money and job worries were putting people off shopping.
Sales were higher for the November to January quarter compared with a year ago, but the BRC said this was entirely due to Christmas shopping and because December was "deceptively good" due to a comparatively weak showing in December 2010, when snow depressed sales.
The national town centre vacancy rate in the UK was 11.1% in January 2012, unchanged from October 2011.
"At the start of 2012, footfall numbers dipped again, showing underlying caution hasn't changed," said the BRC's director general Stephen Robertson.
"Worries about personal finances and job security are putting people off shopping.
"The rate of town centre vacancies has stayed constant across the UK as a whole, but the condition of too many high streets is still bleak."
Last week, official figures from the Office for National Statistics showed sales rose in January, but this largely reflected strong sales growth in supermarkets and out-of-town shopping centres and not activity on the High Street.