Santander fined £1.5m by FSA over investment cover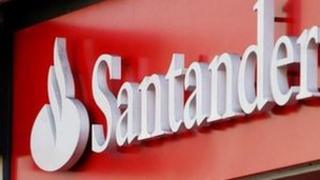 Santander has been fined £1.5m for being too slow to explain to customers whether investments were covered by a financial safety net.
The Financial Services Compensation Scheme (FSCS) guarantees the safety of some savings if a financial institution goes bust.
Customers began to query at the end of 2008 whether some of Santander's investment products were covered.
But Santander did not tell them until 2010 that FSCS cover was limited.
During that time, Santander sold £2.7bn of these products - known as structured products.
The Financial Services Authority (FSA) said that the bank was not quick enough to confirm whether these were covered, especially at a time of financial uncertainty.
However, investors had not suffered any financial loss as a result of this lack of clarity, the FSA said.
'Informed decisions'
The return from a structured product is generally linked to the performance of an underlying asset or index.
Specifically, Santander had concluded in June 2009 that two of its products - Guaranteed Capital Plus and the Guaranteed Growth Plan - only had limited cover from the FSCS safety net.
However, new customers were not told about this until January 2010. Some £1.2bn of these products had been sold during the two dates.
"When firms provide customers with literature about products, the information has to be correct and unambiguous. After all, it is there to help people make informed decisions about whether to invest," Tracey McDermott, acting director of enforcement and financial crime at the FSA.
The bank said it was unhappy with the FSA's decision. It claimed that the wording was consistent with the market at the time and that it had been back in touch with all the relevant customers.
"Santander is disappointed with the outcome and has registered its opposition to the FSA's findings," a spokeswoman for the bank said.
"The FSA's final notice acknowledges that there is no evidence that the products were sold to customers for whom they were not suitable, and that no customers have suffered a financial loss.
"In order to conclude a lengthy investigation process, Santander has decided, in the circumstances, that we will not challenge further the decision, nor the fine."