British Gas offers £50 to get insulation in more homes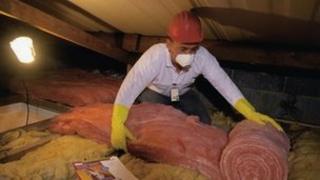 Energy companies are falling so far short of government insulation targets, they are now paying to get hold of the names of the neediest householders.
British Gas is offering £50 to anyone who can pass on the name of an elderly person or a family on benefits who needs to have their home insulated.
It is offering the money in a drive to get free insulation installed in half a million "needy" homes by next year.
Firms have found it hard to persuade such households to come forward.
British Gas is holding out the prospect that individuals could earn themselves hundreds of pounds by referring vulnerable family members, friends and neighbours for free loft or cavity wall insulation.
The company says loft insulation can save households £175 on their heating bills and cavity wall insulation can save £135.
Priority group
Several energy companies provide free insulation to customers. But now the neediest households are being offered cash incentives as well, regardless of whether they are customers or not.
Scottish & Southern Energy hands over a £25 shopping voucher and E.On pays £100 as an incentive.
British Gas has now raised the stakes by promising £50 to the householder and £50 to the person who passes on the name.
The offers are restricted to a top priority group of low-income families.
Those who qualify for the British Gas offer must be either:
receiving Child Tax Credit with an income below £16,190
or on certain income-related benefits, in most cases with a child or a disability
'Means the world'
Joe Wilson, a 69-year-old former carpenter from North London, is typical of those who could benefit. He has just had loft insulation put in this week.
During the recent cold weather, Mr Wilson was too frightened to keep on his electric heaters for fear of running up high bills.
He only turned on his hot water boiler once a week for two hours.
"I think it's fantastic," he told the BBC. "It'll cut down the energy bill - it means the world to me."
The UK has a target of halving carbon emissions, from 1990 levels, by 2025.
A consumer watchdog welcomed the latest move from British Gas, which followed the distribution of energy-saving lightbulbs by Npower a couple of years ago.
Audrey Gallacher, director of energy at Consumer Focus, said that search fees to find vulnerable customers could cost about £120, so the latest idea was a good option. Ultimately, however, the cost would work through to bills, she said.