Euro up in Asian trade after second Greek bailout deal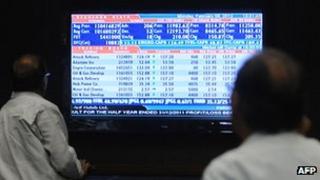 The euro has risen and Asian markets pared earlier losses after policymakers in Europe reached a deal on a second bailout for Greece.
The euro rose by about three quarters of a cent against the US dollar and also rose against the yen.
A package worth 130bn euros ($170bn) was announced after lengthy talks in Brussels.
Analysts said the reaction in Asian markets, which have rallied in the last few days, was relatively muted.
"The Greece bailout agreement has already been priced in by the market," said Yoshihiko Tabei from Kazaka Securities.
The euro initially jumped by almost a cent against the dollar to $1.3291 after reports of the deal emerged from Brussels, but later fell back slightly.
"The announcement sparked euro buying," said Tsunemasa Tsukada from Mitsubishi UFJ Trust and Banking.
The MSCI index, the broadest index of Asia Pacific shares outside Japan, recovered earlier losses to stand down 0.1%.
Japan's Nikkei 225 index was also down just 0.1% at the mid-session break.
Greek Optimism
On Monday European stock markets closed higher, anticipating a deal as talks got underway.
The UK's FTSE 100 rose 0.7%, while German and French bourses were also higher.
Banks that hold Greek debt rose too, including Germany's Commerzbank gaining 3.6% and France's Credit Agricole rising 2.5%.
Greece's stock market was also higher. It rose 3.4% last week - its fifth consecutive week of gains.
Greek stocks lost 52% of their value last year.