Building a complex sporting legacy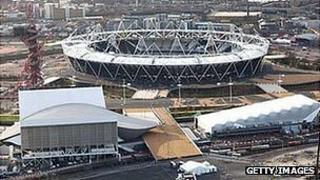 This time next year the London Olympic Games will be a distant memory and the process of counting the cost will be well under way.
Like those before them, organisers have faced the question of what to do with the facilities built to house the Games, which, in London's case includes a basketball arena, a velodrome and main 80,000-seat stadium.
The Olympic Park Legacy Company has appointed operators for the Aquatics Centre, Multi-Use Arena and Arcelor Mittal Orbit, meaning six out of eight permanent Olympic venues now have a future.
They promise to offer employment, training, affordability and sporting opportunities, and with the promise of swimming, for example, at the same price as the average local pool.
In that respect they will be like former Olympic arenas in Munich (1972) and Montreal (1976), cities which have seen Games buildings become well-used public buildings.
But will these London venues make any kind of profit post-2012?
Particularly as the promised grass-roots sporting uptake that was initially promised is unlikely now to materialise.
And is the fact that the London venues will be run by different operators post-Games (such as Greenwich Leisure Limited operating the Aquatics Centre and the Multi-Use Arena, and Balfour Beatty Work Place running the Arcelor Mittal Orbit and maintenance of the Queen Elizabeth Olympic Park) the best way forward?
These are questions that are likely to face the organisers of major sporting events for quite some years to come.
Governing bodies
On the other side of the Atlantic there is one example of how to use facilities to build grass roots interest in sport and also make a profit.
Moreover, it is a sporting complex built in collaboration with many sports governing bodies, and with all venues placed closely together under one overall management.
Just a few miles away from the theme parks of Disney World in Orlando, Florida, lies the Wide World of Sports (WWS).
Its 250 acres comprise facilities for hosting more than 70 types of sports.
There's an 11,500-seat baseball park, four multi-sports fields, a track and field complex, a six-field softball complex, 10 tennis courts and two indoor arenas with the flagship able to accommodate 12 volleyball courts.
The venue is run by Disney's sports brand ESPN but there are no cute and cuddly characters in sight.
Tourism
What makes the complex different is that the vast majority of the events staged there are youth and amateur-oriented.
And Ken Potrock, WWS senior vice-president says there is no reason why the organisers of the London Olympics can't emulate this.
He says it would be easy for an operator to re-purpose many of the Olympic facilities for use by amateur athletes, and there would be the added attraction of previously being used by Olympians.
London itself would also be a draw for youth athletes just as Disney World is in Orlando.
"People all over Europe might be interested in competing at brand new facilities and London is a substantial tourist destination in its own right," says Mr Potrock.
"That potentially becomes what you would call a competitive advantage."
He adds that "London could position itself by saying to athletes you want to come here because we have got all of these great amenities and opportunities".
National events
When it was first mooted as an idea in the 1990s the Florida venue was modelled on a "from the ground up" plan with youth sports in mind.
Crucial to this strategy has been the Amateur Athletic Union (AAU), the largest amateur sports organisation in the US.
The AAU announced its support of the Wide World of Sports several years before the complex opened in March 1997 and even relocated its headquarters to Disney World.
It committed to staging more than 30 national events annually at the venue and it hosts 12 national basketball events alone there each year as well as others in baseball, gymnastics, inline hockey, track & field and wrestling.
The top managers and scouts from America's National Basketball Association (NBA) come to the AAU national championships to draft the best college talent before each season begins.
Likewise, the winners of the Soccer Showcase, the biggest youth football tournament in the US, get to train with Chelsea Football Club for a week.
'Challenge'
And, while the youth focus could provide the biggest opportunity, it might also be the biggest hurdle for Olympic host venues post-Games.
Mr Potrock says is a big difference between "trying to do this after the fact, as opposed to planning when they are contemplating their facilities about how to best use them after the Olympic Games."
He adds: "I am not sure what country has quite cracked it. It is a challenge."
In this respect, he feels, Winter Games, which are usually more compact and with less stadiums than their summer counterparts, may be at an advantage.
London also faces a challenge in having its locations spread so widely across the city.
"That makes it very difficult to manage," he says.
"In contrast we have one venue that has dozens of facilities within it.
"There is one management team and one labour force. There is an efficiency to that."
France and China
Other venues mirror some of the Wide World of Sports' selling points.
For example, France's Institut National du Football de Clairefontaine is one of the world's top football academies and also houses the country's national football team.
However, it isn't open to the public so its legacy is restricted to top-flight football teams.
Other venues such as Mission Hills Shenzhen in China share the scale of the WWS, and with its twelve courses of 18-holes it is accredited as the world's largest golf facility.
It also incorporates the largest tennis centre in Asia with 51 courts, including a 3,000-seat stadium court, and other lavish facilities.
However, it lacks the focus on grass roots sports.
Follow the stars
Many young athletes who competed at the complex went on to reach the top of their games, including former Wimbledon champion Lleyton Hewitt, China's NBA star Yao Ming, and US soccer star Freddie Adu.
The location is also one of only a handful of venues in the US to have hosted practice events for teams in the three primary American professional sports leagues and in February every year the Atlanta Braves baseball team holds its spring training there.
Pete Sampras and Serena Williams have played on its tennis courts, Marion Jones has trained on its track and the British Olympic Association has made the transatlantic journey for warm-weather training there.
"The idea of being able to play in the spike or sneaker marks of professional athletes is a big deal for kids," says Mr Potrock.
Mr Potrock says that the venue's Orlando location is its biggest competitive advantage.
"It seems to work because what we have seen is that in our rough economy, where youth athletes have many tournaments to go to but their families can't afford to travel to them all, we typically win," he says.
"This is because they can double dip and make a vacation out of it too by going to Disney World."