Alibaba.com shares jump 43% on plans to go private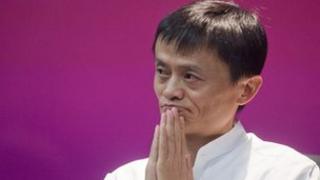 Shares of Alibaba.com have risen 43% after its parent group said it would take the company private, gaining full control over China's biggest business-to-business e-commerce site.
Alibaba Group said it would pay about $2.4bn(£1.5bn) to complete the move, meaning a 46% premium for shareholders.
Shares of the Hong Kong listed site had been suspended since 9 February.
The parent firm has also been in intense negotiations to buy back a 43% stake owned by US internet giant Yahoo.
"Taking Alibaba.com private will allow our company to make long-term decisions that are in the best interest of our customers and that are also free from the pressures that come from having a publicly listed company," said Alibaba group chairman Jack Ma.
Shifting focus
Alibaba.com brings together small manufacturers with buyers around the world.
It reported a 6% fall in fourth quarter net profit on Tuesday. The company said it was cautious on short term growth prospects because of uncertainty in the global economy and its impact on Chinese exports.
It said it had recently shifted strategy towards improving the quality of suppliers and the customer experience, instead of increasing the number of manufacturers which contributed to strong growth in recent years.
"The new strategy may adversely affect the company's revenue growth and limit earnings visibility for the foreseeable future," Alibaba Group said in a statement filed to the Hong Kong Stock Exchange.
The move comes after the company's reputation was called into questions when it revealed last year that some buyers had been defrauded by fake sellers.
Yahoo questions
The group will offer 13.50 Hong Kong dollars per share for the 27% of the company it doesn't already own.
That is the same share price at which the unit first listed in November 2007.
The company said in its statement that taking Alibaba.com private is not related to the Yahoo talks, as some analysts have suggested.
It said the move would not be conditional on the completion of a possible transaction with Yahoo, or vice versa.