Credit Agricole reports 3bn-euro fourth-quarter loss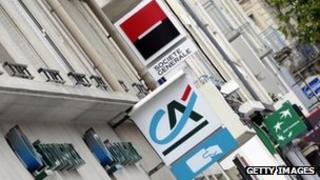 Credit Agricole has reported a large loss for the three months to the end of December due to its exposure to Greek debt.
France's third-largest bank lost 3.1bn euros (£2.59bn; $4.1bn), up 9.4% on the same period in 2010. It lost 1.1bn euros over the whole of 2011.
French rivals Societe Generale and BNP Paribas both posted profits last week.
Also on Thursday, Germany's Commerzbank reported a 316m-euro profit in October to December 2011.
Commerzbank is amongst the most exposed to Greek debt out of any German bank.
Greek woes
Shares in Credit Agricole were down 2.3%.
Investors were also disappointed by the news that the bank would not pay out a dividend to its shareholders.
In its results, Credit Agricole said it was reducing the amount of funding that it provides to the chain of Greek retail banks that it owns, Emporiki.
Both Credit Agricole and Emporiki hold Greek government bonds and the group announced that they would write down 75% of the value of these investments.
Credit Agricole said that the total cost of its investment in Greece is 2.3bn euros.
The bank did not make a formal outlook for 2012 in its report.
Chief executive Jean Paul Chifflet said: "On the whole, Credit Agricole's solid fundamentals, coupled with the rapid implementation of measures under the adjustment plan, will give the group the means to cope with the new economic and financial framework."
Capital reserves
Shares in Commerzbank also fell on Frankfurt's Dax exchange, losing nearly 10% in early trading.
Although the bank stayed in profit and continued to pay its dividend, it announced that it would continue to focus on improving its reserves.
European regulators have set banks a minimum target for reserves of 9% of assets, to be hit by the end of June 2012.
Commerzbank said its reserves hit 9.9% at the end of December 2011.
"Commerzbank has lowered its costs and further reduced risks," said chief financial officer Eric Strutz.
"This is further testimony to the successful strategic orientation of the bank."
Commerzbank still holds large amounts of government bonds in debt-stricken eurozone countries, including Greece.
It said it wrote down the value of its Greek holdings in 2011 to 26% of their original value.
This brings the value of the bank's exposure to debt in Greece, Portugal, Ireland, Italy and Spain to 12.3bn euros.
Also on Thursday, German insurer Allianz reported that its net income fell over 50% to 492m euros in the three months to the end of December 2011, compared with the same period in 2010.
Allianz said that the cost of writedowns on Greek government bonds and its other investments in the country cost 1.9bn euros.