Deutsche Telekom hurt by falling demand on euro crisis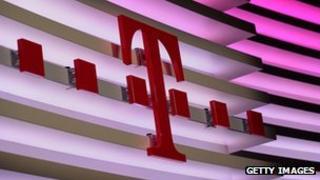 Deutsche Telekom has reported a loss due to a drop in demand in Europe, including Greece, because of the eurozone debt crisis.
The firm reported a 1.3bn-euro (£1.1bn; $1.7bn) loss in the three months to the end of December, down from a 582m-euro loss in the same period in 2010.
For 2011, the firm's net profits fell to 600m euros, down from 1.6bn euros in the previous year.
But it received 3.2bn euros from the collapse of its deal with AT&T.
The firm, which is Europe's largest telecommunications company, saw its bid for the US mobile network blocked by regulators resulting in the payout.
Still, its losses in Europe wiped out this gain.
"Deutsche Telekom 2011 results show that new TV and mobility services from telecom companies are not yet able to compensate business losses coming from price decline in the traditional segments," said Frank Ridder at Gartner Consulting.
European troubles
Chief executive Rene Obermann described the company's performance in its key German market as mixed.
The firm introduced cost-cutting measures in 2011 to cope with the effect of a drop in demand for fixed-line telephones, its core business.
Deutsche Telekom lost 295,000 landline subscribers in Germany during the year but it has faced difficulty throughout Europe.
"The economics environment in almost all countries, particularly in southern and eastern Europe, has depressed revenue and earnings," said Mr Obermann.
"In Greece especially the situation is still extremely tense."
The firm was also affected by falling profits at its businesses in Poland, the Czech Republic and Austria.