German business confidence 'at seven-month high'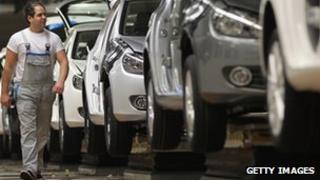 German business confidence hit a seven-month high in February, according to the latest survey from the Ifo Institute.
Its business climate index rose for the fourth month in a row, rising to 109.6 points from January's figure of 108.3.
The increase was greater than had been expected.
Ifo said solid domestic demand was protecting German businesses from the worst effects of the debt crisis in the eurozone.
"Austerity measures in the rest of the eurozone and the February freeze: it looks as if almost nothing can shatter German business optimism," said Carsten Brzeski at ING Bank.
"Today's Ifo index provides further evidence that the German economy only made a short stopover at the end of last year."
The German economy shrank by 0.2% in the last three months of 2011, although it grew by 3% in the full year.
Economists are confident that it will grow in the first three months of 2012, avoiding a recession.
"With Germany back to growth, weaker countries can benefit from increased demand for imports and should also return to some expansion later this year," said Christian Schulz from Berenberg Bank.
"However, ongoing austerity will continue to hold back economic growth."