Extras, extras, read all about 'em....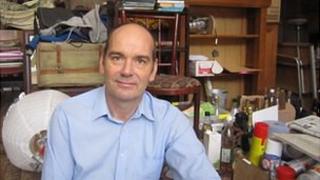 Hugo, directed by film legend Martin Scorsese, is one of the front-runners for this year's Best Picture Oscar.
Ben Kingsley, Sacha Baron Cohen and Ray Winstone are the stars. And Alex Smith. Well sort of.
The former prison officer now works as an extra on films and TV shows.
He worked for 40 days on the set of the movie. But you will not recognise him. In fact, when he saw it in the cinema, even he struggled.
"I played a 1930s businessman," he says.
"Most of it was shot on a Paris railway station with 500 other extras there. I recognised a lot of the people I worked with, but didn't spot myself.
"Maybe I might see myself when we watch it on DVD," he adds.
'You can never tell'
Alex has also worked on the latest Bond film, as well EastEnders.
His most memorable role was as a Christmas pudding in a supermarket advert.
He says he mostly does it for fun, but the money comes in handy too.
"The daily rate varied on Hugo from £150 to £250, although the industry norm is nearer £100," says Alex.
"You can never tell when work is going to come in - sometimes you'll get three or four offers from different companies for different films on the same date.
"Others you won't hear anything for weeks or even months at a time," he adds.
Give it a go?
Alex met us on a new set of the upcoming Stephen Poliakoff drama, Dancing on the Edge.
It is about a black jazz band trying to make it in the 1930s, and will be shown on BBC 2 later this year.
We are on location at Wilton Music Hall in east London, where one of the stars, Caroline Quentin, is filming a scene dressed in full period costume.
Extras, or as some prefer to be called, background artistes, are lounging around, waiting to be called.
It seems the main qualifications you need for the job are flexibility and patience.
Other than that, anyone can give it a go.
"Rogue agencies"
Some industry insiders are worried that there is nothing stopping anyone setting themselves up as a casting agent, and so charging people fees without necessarily ever finding them work.
Paul Kirby is chairman of the Film Artistes Association, which is linked to the BECTU union.
He is asking the government to step in.
"We're calling for massive change," says Paul.
"We want to bring back licensing for agents in the entertainment industry.
"There are so many rogue agents out there, the public are being fleeced so often," he says.
15% cut
Alex found this out the hard way.
"There are some dodgy agencies out there," he admits.
"I made the mistake of signing up to a couple of them where they charge you for registration charges and for photographic portfolios and you never hear from them again."
Rosena Robson runs Mad Dog Casting.
Her advice is, if you are looking for extra work, never pay agency fees upfront.
"We don't take a penny off our artists until they're actually in a paid job," says Rosena.
Instead, the agency's yearly fee of £61.50 plus VAT comes out of your first pay packet.
After that, it takes a 15% cut of every job you do.
A fair system
Rosena says when people sign up to the agency, they are given a booklet and made to watch a video explaining the payment system.
But she admits some people do forget this, and get a "nasty surprise" when their initial set of wages come through.
"Sometimes people phone us up and we have to explain it again," she says.
"But I do think it's a fair system. It's all made really clear, that's the key thing."
She says the industry is booming, and her agency is always looking for new faces.
"A lot of people do it because it fits in with their flexible lifestyle, so we have designers, we have mums, we have retired people, and it's great because it's extra income for them," Rosena says.