Royal Mail just misses Christmas deliveries target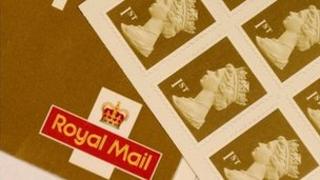 Royal Mail just missed its delivery target for first-class post in the busy run-up to Christmas, new figures show.
A total of 92.3% of first-class mail arrived the next day in the three months to the second week in December. The target is 93%.
However, the delivery target of three working days for second-class mail was met.
Some 59 million letters, packets and parcels are handled every day by Royal Mail.
"Royal Mail's target for next-day delivery of first class mail is challenging, and we are disappointed on behalf of our customers to have narrowly missed hitting it in the autumn," said Mark Higson of Royal Mail.
"Our postmen and women remain determined to deliver the best possible service to our customers."
He said the scale of changes it was bringing in, including modernisation and streamlining of deliveries, led to a "temporary adverse impact" in some areas.
Robert Hammond, of watchdog Consumer Focus, said: "While consumers might see a dip in performance where modernisation is happening, this should not be for an extended period as appears to be the case in some areas.
"Some postcode areas have been failing for a number of quarters in succession, and this is an issue which Royal Mail and the regulator Ofcom need to keep a close eye on."
Next week, MPs on the Commons Business Committee will quiz Royal Mail about its response to the regulator's plans to remove price caps on first-class stamps and raise the price limit on second class to as much as 55 pence.
Ofcom said its proposals, announced in October, were designed to make sure UK consumers continued to benefit from an affordable, universally-priced postal service six days a week.
The cost of a first-class stamp is currently 46p, and sending a standard second class letter costs 36p.
Royal Mail made a £120m loss from its letters business in 2010.