Maersk profits hit by lower freight rates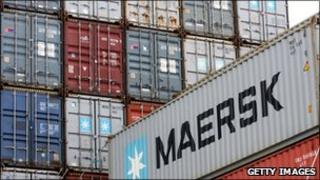 Danish container shipping firm AP Moller-Maersk has reported a sharp fall in profits for last year and warned 2012 would see profits slip further.
Net profit in 2011 was 18.1bn Danish kroner ($3.3bn; £2.1bn), down from the 28.2bn kroner the company made in 2010. Revenue was up 2% at 322.5bn kroner.
Maersk said the results were "acceptable" given falling shipping rates during the year.
The firm said it faced "another challenging year" in 2012.
Profits were hit by low container freight rates, particularly on Asia-Europe routes.
The sale of Netto Foodstores in the UK for $700m helped to offset the impact of lower rates.
Despite falling profits, "our products and services are in high demand and most of our core businesses deliver good results", said the group's chief finance officer Trond Westlie.
Maersk Line, a division of the Maersk group, is the world's biggest container shipping company.