CBI: Service sector weakens in most recent quarter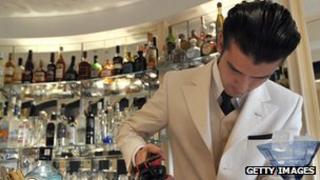 Britain's service sector has weakened, according to the latest report from the CBI, which covered the three months to the end of January.
Consumer services, which includes hotels, bars and restaurants, saw a sharp drop in activity, but not as much as the previous quarter.
Business services, such as accountancy and legal advice, also suffered a drop in trading, but not as much as feared.
The service sector accounts for two-thirds of economic activity.
"Although volumes of business activity continued to worsen across the UK services sector in the past quarter compared with the previous quarter, there are some tentative signs that conditions may be levelling out," said Ian McCafferty, CBI chief economic adviser.
"Business confidence remains fragile, and will continue to be so given the continuing uncertainty in the eurozone.
"However, there are some signs that after the very sharp fall in confidence at the height of the crisis last autumn, sentiment is stabilising."
According to the CBI, the number of people employed in bars, restaurants and other consumer service businesses fell over the quarter.
But the numbers employed in business services rose for the fourth quarter in a row.
The CBI report is not as positive as a report on purchasing managers from Markit/CIPS earlier this month.
It showed that in January the service sector was growing at its fastest rate since March 2011.