GM may buy small stake in Peugeot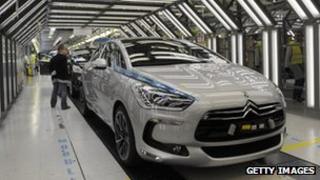 General Motors is close to buying a small stake in Peugeot Citroen, reports say.
The two companies are discussing a strategic alliance in Europe where GM's Opel brand lost $747m (£472m) last year.
As part of that deal GM is ready to buy a stake of about 7% in Peugeot, according to Bloomberg news.
Last year, Peugeot's car-making business reported a loss due to tough conditions in the European car market.
It is thought that the two companies are discussing a plan to develop vehicles together.
They would then sell those cars under their own brands.
The deal could be announced in the next few days, Reuters reports, adding that GM is likely to buy a stake of less than 5%.
A deal would require the approval of the Peugeot family, which still holds 30% of the company's shares, and because of the way those shares are structured, the family has 48% of voting rights among shareholders.