Bayer profits almost double in 2011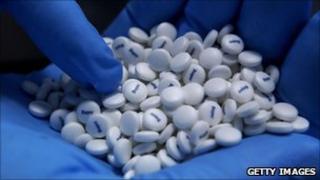 German pharmaceuticals giant Bayer has said its profits almost doubled last year, fuelled by sales in emerging markets.
Net income rose 90% from a year earlier to 2.5bn euros ($3.4bn; £2.1bn).
Sales were up by 4.1% to 36.5bn euros, with sales in emerging markets - including China and Latin America - up by 9% after adjustments for currency fluctuations.
Bayer said it was optimistic about its future drug development.
"Four of our medicines in late-stage development have the potential to become blockbusters," said chief executive Marijn Dekkers.
That means each of these products could achieve annual sales of 1bn euros or more, he added.
Mr Dekkers cited their anti-coagulant, Xarelto, which he said could reach peak sales of more than 2bn euros a year by itself.
That drug has already cost 2bn euros in development costs to Bayer and its partner, US giant Johnson and Johnson.
However, Bayer said it was concerned about health-care spending cuts in many countries, suggesting that it may deprive companies of funding in the short-term.
"Because the money we earn from today's medicines pays for the development of tomorrow's medicines," Mr Dekkers said, adding that the costs of developing new medicines had risen substantially.