The Squanderland Roof and the eurozone crisis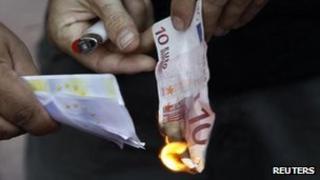 A comedy about the crisis in the eurozone. Not a sentence you expect to read very often. But apparently Radio 4 didn't think my explanations were funny enough.
They've enlisted the brilliant writer, Julian Gough, to write a play which not only explains the European disaster we've seen unfolding over the past few years - but makes you laugh as well.
The result will be broadcast on Radio 4 this afternoon. In the best traditions of Hollywood, I appear in a cameo role, playing myself. (I love the way that makes me sound.)
As some of you will remember, Mr Gough has form in this area. His play, The Great Hargeisa Goat Bubble, managed to explain the boom and bust in credit derivatives leading up to the financial crisis of 2008-09, all with the help of a crazy parable involving goats. And goat futures.
I did wonder whether he could pull off the same trick for the eurozone. But I think he's succeeded brilliantly. As well as being funny, it's rather dark, this play.
I certainly wouldn't say it represents the official BBC view of the crisis. (Naturally, since there is no such thing.) Let's just say, bankers and policy makers do not come off well.
However he does manage to do justice to the more tragic aspects of the crisis; not least, the fact that a project intended to bring Europe together instead now threatens to tear it apart.
He also manages to reflect both sides of the argument, at least at the level of ordinary people. Perhaps that's because he's an Irishman living in Germany. Go figure.
Most surprising of all, he manages somehow to contrive a happy ending. Or at least, happy for debtors. For creditors, not so much. But for more on that you'll need to tune in.