Volvo Cars prepares for Chinese production to start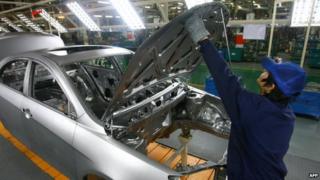 Manufacturing in China, the world's fastest growing market, is every carmaker's dream.
Making the dream come come true is far from easy, however, as Chinese-owned Volvo Cars has discovered.
Nearly two years have passed since Geely paid $1.8bn for Ford's Swedish subsidiary, in a deal said to be the biggest acquisition of a non-Chinese rival by a Chinese carmaker.
Last year, Volvo sold more than 100,000 cars in China, 24% more than in 2010.
Yet the Chinese authorities still see Volvo as a foreign player, which means it cannot make cars there.
"We are being treated as a foreign company," observes Stefan Jacoby, Volvo's chief executive.
"Obviously we cannot hide that we are a Swedish registered company, so we'll need to enter into a joint venture in China in order to comply with Chinese automotive regulations."
'Timing is crucial'
The joint venture will be with Volvo's parent company Zhejiang Geely, which also owns one of China's leading carmakers Geely Automotive and is owned and chaired by the billionaire industrialist Li Shufu.
Work is under way to make the venture happen, thus paving the way for the venture producing cars in China.
This is little more than a formality, according to Mr Jacoby, who describes it as an internal manoeuvre.
"We are doing this joint venture more or less with ourselves," he says, insisting that "we will produce Volvo cars in China".
Industry observers point out that the joint venture not only has to be completed by the end of this year, however. It will also need its own vehicle production licence from Chinese regulatory bodies.
"The timing is crucial for the carmaker," observes Namrita Chow, automotive analyst at IHS Automotive, "as it aims to begin production at its new plant in Chengdu next year."
New factories
Plans are well advanced for for Volvo's new factories, which are being constructed in parts of China where labour costs remain relatively low, Mr Jacoby observes.
"We are doing the right thing in not investing more in metropolitan areas where the labour rates are getting less and less competitive," he says.
"We are building two factories - one in Chengdu in the south-western Sichuan province, near where all these beautiful toys are made by Apple, and one in Daqing in the Heilongjiang province up north close to the Russian border. It's the oil centre of China."
Volvo is also considering a third plant opening, in the Hebei province in northern China. This could be an engine plant, though the company says it has no firm plans in place.
Exporting to China
None of those factories will be operational until 2013 at the earliest, with some of the production scheduled to start one or two years later still.
So for the foreseeable future, Volvo will still export cars to China.
One such export model, which offers a clear hint at what we can expect from Volvo in the years ahead, is the carmaker's new V40 model, which premiered at last month's Geneva motor show and will be produced at Volvo's factory in Gent, Belgium.
"We will introduce this car in China as well," says Mr Jacoby.
"I see significant growth in China in the hatchback segment, especially for premium brands."
Volvo is planning to launch more than one new model per year on average in China, between now and 2020.
Scandinavian design
Though it shares a platform with the Ford Focus, the V40 can still be seen as the first model to have been developed following the Zhejiang Geely takeover.
"This is the first new model that is fully developed according to our 'human-centric [design] strategy'," says Mr Jacoby. "And it is loaded with features that buyers of modern luxury cars want."
The V40 was "rushed out by Volvo's new management to take advantage of its lack of volume in the growing premium C-segment", according to IHS Automotive analyst Tim Urquhart.
Some 85% of the 90,000 V40 models made each year will be sold in Europe, largely to company car drivers to whom fuel economy and low CO2 emissions are important: Volvo says the V40's 254hp diesel engine emits just 94 grammes of CO2 per kilometre, yet accelerates from nought to 60 miles per hour (0-100km/h) in 6.7 seconds.
Hence, the model will play a minor role in terms of bolstering sales in China.
But the V40 has another job to do. It has been designed to change Volvo's image as practical, albeit somewhat stodgy.
Instead, it combines Scandinavian design and a new definition of luxury , Mr Jacoby says, in an attempt to take on "the German premium brands, the Mercedes A-Class, the Audi A3 and the BMW 1-Series".
The hope is that the V40 will help build awareness about Volvo's new direction, before cars start rolling of its Chinese production lines.
Only then, says Ms Chow, will sales take off - with Mr Jacoby eyeing a doubling in sales to 800,000 by the end of the decade.
"The main bulk of Volvo's potential growth in China is expected to come once the carmaker commences production at its own plants there," Ms Chow says.
The Beijing motor show is open to the public from 27 April until 2 May.