Mortgage approvals at two-year high in January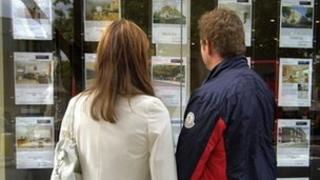 UK mortgage approvals hit a two-year high in January, Bank of England figures show, suggesting property sales could rise in the coming months.
In January the number of new mortgages approved for house buyers, but not yet lent, rose by 7% to 58,728.
That was the highest monthly figure since December 2009 and a 30% rise on January last year.
On Tuesday, the Land Registry reported that house prices in England and Wales rose by 1.1% in January.
The figures for mortgage approvals may have been boosted by some buyers trying to complete their purchases before the end of the current stamp duty holiday for first-time buyers, which expires on 24 March.
A two-year long concession will end on that date with the reintroduction of the 1% stamp duty rate for first-time buyers, on properties worth between £125,000 and £250,000.
Adrian Coles, director-general of the Building Societies Association, said: "New lending and approvals for house purchase picked up across the market in January, perhaps in part due to first-time buyers taking advantage of the stamp duty holiday before it ends in March."
The Council of Mortgage Lenders (CML) said: "We are now likely to see an unhelpful bunching of activity prior to the concession's expiry, followed by a dip."
'Still low'
Although approvals picked up in January, they are still running at roughly half the level recorded at the peak of the last mortgage lending boom in 2006 and 2007.
Severe mortgage rationing by lenders shows little sign of easing and still means that first-time buyers typically have to put down a deposit worth at least 20% of their property's value.
Lenders are also tightening their lending criteria even further for people wishing to borrow on an "interest-only" basis, in advance of new rules to outlaw risky mortgage lending being imposed by the Financial Services Authority.
"Despite the recent pick up, housing market activity is still low compared to long-term norms," said Howard Archer of IHS Global Insight.
"And despite current signs of improvement, the economic fundamentals still look far from rosy for the housing market with unemployment high and likely to rise further, earnings growth muted, debt levels high and the outlook uncertain."
Richard Sexton, of e.surv chartered surveyors, said: "If the end of the tax break for new buyers coincides with a deterioration in the economy, the first-timer market will seize up again and may well enter a state of rigor mortis."