Standard Chartered profits rise 11% to new record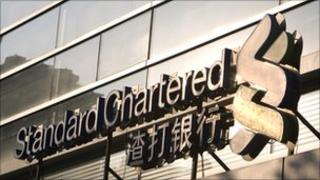 Asian-focused bank Standard Chartered has reported record profits for the ninth year in a row.
Profits at the London-based bank during 2011 rose 11%to $6.8bn (£4.26bn) thanks to its exposure to the fast-growing Asian markets.
Standard Chartered makes more than 75% of its profits in Asia.
Growth was particularly strong in Singapore and Hong Kong, although in two of its other major markets, India and South Korea, profits fell.
Staff costs rose by 15%, with underlying wage inflation at 5%.
Companies operating in Asia are increasingly having to pay higher salaries to attract staff.
"Yes, we are facing acute competition for talent, but we are still managing to invest and keep a tight grip on costs," said Standard Chartered's chief executive Peter Sands.
He said the bank paid about £800m in bonuses to staff for 2011, in line with the amount paid out in 2010.