Vivendi forecasts no profit growth until 2014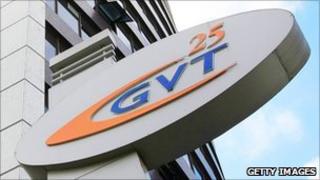 Vivendi, Europe's largest telecoms and entertainment group, has forecast no profit growth until 2014, sending its shares down 7%.
It expects to face stronger competition in France and Morocco, and said that efforts to adapt would place increased pressure on earnings in 2012 and 2013.
This pressure was already being felt, with profits in the fourth quarter of 2011 down 10.5% at 433m euros (£362m).
However, adjusted net profit for 2011 rose 9.4% to a record 2.95bn euros.
Across the year, the group was boosted by 40% growth in revenues at GVT, its Brazilian telecoms subsidiary, and a 3% rise in sales at its Activision Blizzard's video games.
Its annual profit was also lifted by the group taking full ownership of its French SFR mobile business in June.
Revenues for the fourth quarter fell 2.8% and for the year dipped 0.2% to 28.8bn euros.
The company cut its dividend, saying it planned to pay investors one euro per share in cash and one bonus share per 30 shares held. The previous year, it had paid a dividend of 1.40 euros per share.