UK manufacturing curbed by high oil prices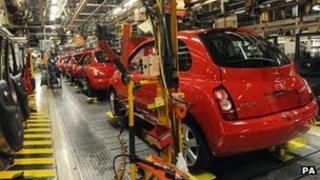 Growth in the UK's manufacturing sector was held back by rising oil costs last month, a survey has indicated, with prices faced by firms rising at the fastest rate in 19 years.
The Markit/CIPS Purchasing Managers' Index (PMI) for manufacturing slipped to 51.2, down from 52 in January.
A reading above 50 implies that the sector is growing.
The price of Brent crude rose 10% last month to $125 a barrel on worries over the effect of oil sanctions on Iran.
That price was a 10-month high, and Brent was just short of that on Thursday, trading at $123 a barrel.
Economists still hope the UK economy will expand in the first three months of this year and escape a technical recession - defined as two successive quarters of negative growth.
In the last three months of 2011, the UK economy shrank by 0.2%, with the manufacturing sector contracting almost 1% in the period.
Markit economist Rob Dobson said that a higher oil price fed through in to all sorts of costs faced by manufacturers, such as the price of chemicals, energy and transportation.
"If this combination of rising costs and weak demand persists, sustaining output growth and job creation will become increasingly difficult," said Mr Dobson.
The Bank of England has said the UK economy will "zig-zag" this year, but should manage to end stronger than it began.