Lexus enjoys European sales boom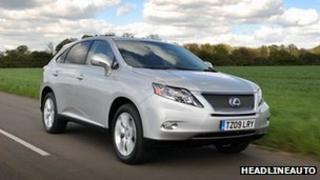 There are times when changing one's appearance offers the best route to fame and fortune.
Japanese luxury carmaker Lexus certainly hopes it will do wonders for its sales, which are expected to surge this year.
Last year, sales in Europe rose 40% to just over 43,000 cars, says Andy Pleiffenberger, vice president of Lexus Europe.
And this year they should rise above 50,000, even as the broader luxury market stays pretty flat in western Europe.
Much of the current success is driven by new, smaller models and by new engines that have made its larger models more fuel-efficient.
But the carmaker's new look, which incorporates a distinct new grille shaped like a spindle, is also driving sales.
"Our competitors - Mercedes, BMW and Audi - are all instantly recognisable on the road," Lexus chief Kiyotaka Ise said during the launch of the carmaker's new face in January. "That's what we're going for."
Not good enough
The fresh start is certainly welcome for Lexus Europe. Though strong at the moment, it has taken the carmaker some four years to bounce back from a slump in sales.
Two things happened, Mr Pleiffenberger recalls. In 2008, the economic crisis, which hit all carmakers to varying degrees, coincided with stricter emissions legislation that encouraged downsizing.
The consequences were as sudden as they were painful for Lexus, with many customers simply rejecting its products because they were not good enough.
"Some of our products became a bit marginalised," Mr Pleiffenberger acknowledges.
"Even with the RX400h [petrol-electric hybrid sports utility vehicle], carbon dioxide figures were a bit high at the time," he says, pointing to how fleet buyers, or so-called "user-choosers", have to stick to cars that meet strict emissions and fuel consumption criteria.
'Big game changer'
The model that should help fix the problem is unveiled at the Geneva motor show this week.
With the new RX 450h SUV, Lexus has managed to push CO2 emissions below 150g/km, thus getting it back on the company car buyers' lists.
"But the big game changer for us was the introduction of the CT 200h," Mr Pleiffenberger says.
Lexus Europe sold almost 17,000 of the hatchback last year - not far short of half its total - attracting droves of new customers to the marque.
Many of them were previous Toyota customers who wanted to trade up to a premium brand, Mr Pleiffenberger says, pointing out that too many of them are still buying cars from German rivals such as Audi, BMW and Mercedes.
Big in America
The challenges facing Lexus in Europe contrast with the marque's strong position in the US market.
Last month, Lexus topped the latest JD Power Vehicle Dependability Study, ahead of Porsche and Cadillac.
And the brand is planning to launch nine new models in the US during this year and next, hoping to regain its position as the best-selling luxury car company there.
(Last year, Lexus was distracted by the 11 March earthquake and tsunami in Japan and the September floods in Thailand. The natural disasters caused severe parts shortages that hit Lexus' production capacity, so the US sales crown was lost to BMW for the first time in more than a decade.)
Global growth
Lexus' ambitions extend well beyond the US market, however.
The carmaker is gunning for global sales of 510,000 vehicles this year, up from 404,000 last year.
For parent company Toyota, the ambitions also extend well beyond the Lexus brand.
The automotive giant is aiming for similarly strong growth rates for all its brands, which also include small car producer Daihatsu and truck maker Hino, in large part thanks to subsidies in its home market that make eco-friendly cars cheaper for Japanese consumers.
Overall, Toyota is aiming for sales to top 9.5 million vehicles this year. Last year, sales dipped 6% to just less than eight million vehicles, less than both General Motors and Volkswagen Group.
"The target shows Toyota's desire to bounce back to growth in 2012 after battling natural disasters, currency fluctuations and global uncertainty in 2011," observes Paul Newton, industry analyst with IHS Global Insight.
The mid-term goal, according to Toyota Europe's chief executive Didier Leroy, is to sell more than a million cars around the world.
The Geneva motor show is open for the public from 8-18 March.