German retail sales fall unexpectedly in January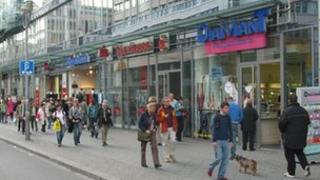 Retail sales in Germany did fall unexpectedly in January by 1.6% compared with the previous month, the biggest drop since May last year, official figures have shown.
Compared with a year ago sales rose by 1.6%, the statistics office said.
The figures are a first estimate and vary considerably from month to month.
Falling consumer spending and exports contributed to a contraction in the German economy - Europe's largest - in final three months of last year.
"The January results are a disappointment. In the mild weather much less winter clothing and winter sports articles were sold," said Rainer Sartoris at HSBC Trinkaus.
"But consumption can improve during the year. The labour market is good and it looks as if wages could rise significantly."
Despite Germany experiencing its first quarter of negative growth since 2009 at the end of last year, analysts expect its economy to bounce back in the coming months.
Last week, a closely-watched survey suggested confidence among German businesses was running at a seven-month high.