Interest rates: Father and son debate record low rates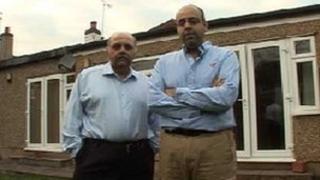 At the time, it was unheard of. Now, the record low level of interest rates feels normal.
On 5 March, 2009, the Bank of England dropped the Bank rate to 0.5%, and it has not budged since then.
The decision has caused debate within the UK and, at times, within the same family.
Fardeen Valimohamed his wife bought their first house in November 2009.
"As first-time buyers we were really, really happy that interest rates were very low at that time, and we have continued to benefit from that since then," he says.
"All we have known is rates at the level they are at just now."
He wants rates to stay low. His dad, however, completely disagrees.
'Piddly'
Amir Valimohamed is an accountant, but he is looking to retire in the next few years. He has planned for this, and has invested his money in Individual Savings Accounts (Isas).
He remembers when he got the "best part of 5% or 6%" interest. Now he says it is closer to a "piddly" 2%.
"This has really put a big dent in my savings as far as income is concerned. I've got a reasonable amount of savings, the interest on which I'm getting at the moment is very, very low. I would very much like interest rates to go higher."
While he wants rates to rise, his son is concerned about what will happen once they start to climb again.
"If they do start creeping up slowly to 3%, 4% or 5% that would be a very new thing to try to manage and budget for. So it would be devastating," says Fardeen.
His mortgage costs £1,061 every month. If rates ever did get back as high as 5%, those payments would rise to £1,679.
Timing
Clearly father and son do not agree on this, but adviser David Braithwaite, from Citrus Financial Management, says the key question for them to consider is when interest rates will change.
He says it is very difficult to predict what is going to happen, but believes they will not move for the next 12 months.
After that he expects to see moves of a quarter of one percentage point at certain times.
He says that the continued low level of rates is good news for Fardeen, and anyone else on a variable-rate mortgage. But they can still take steps now that will help once rates do go up.
"What you should be trying to do is make overpayments with the savings you are making on your mortgage to reduce your balance," he says.
"Then, when rates do start to rise, the cost of borrowing will go up a bit. So you might want to consider looking at a longer-term fixed rate.
"At the moment, for a five-year fixed rate, you should be looking at [an interest rate] of just under 4%. So, at some point, you might want to time your entry into that area of the market as well."
Fardeen is not too keen on that though.
"Fixing at just below 4% is still nearly double my current interest rate, but it might be an option I'll have to look at," he says.
David says he can understand why Amir is so keen on a rate rise.
"Savers are really struggling right now, and all you can do is shop around and maximise the Isa allowances that you have got," he says.
"Rates are getting more and more competitive in the lead up to the end of the tax year, so it is a really good time to be looking around. Instead of 2%, you can get more than 3% interest."