UK growth forecast cut by British Chambers of Commerce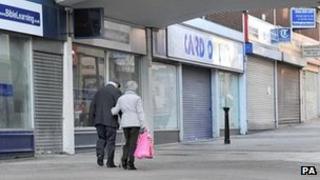 The UK will avoid a double-dip recession but growth this year will be slower than previously forecast, the British Chambers of Commerce has said.
In its quarterly economic forecast, the business lobby group (BCC) predicted the UK economy would grow by 0.6%, down from its previous forecast of 0.8%.
It warned that unemployment would rise and that debt levels remained too high.
Director general John Longworth urged the chancellor to "pull out the stops" in the Budget to help drive growth.
"The UK economy faces serious challenges, with problems in the eurozone creating difficulties for exporters, combined with dampened domestic demand," he said.
The BCC said in its report that unemployment would increase from the current 2.6m to 2.9m at the start of next year, with the jobless rate for 18 to 24-year-olds expected to be around 23%.
Interest rates
Interest rates would remain at "very low levels" for longer than previously envisaged, staying at 0.5% until the final months of 2013, followed by modest increases.
Having shrunk in the last quarter, any further contraction of growth in the current three month period would mean the economy was technically in a recession.
The BCC said economic growth was likely to weaken in the second quarter of the year because of the extra bank holiday for the Queen's Diamond Jubilee. But it said the London Olympics might distort growth figures in the summer.
Mr Longworth said the chamber believed a recession would be avoided. But he said: "Our economic forecast underlines the need for the government to deliver a Budget that will bring confidence to businesses."
Chancellor George Osborne is to deliver the Budget on 21 March.
Mr Longworth said the government should stick to its deficit reduction plan but that there was room in its spending envelope for measures to encourage firms to export, invest and grow.
He called for: "Real deregulation, a simple easy-to-use planning system, improving the flow of credit to firms, and improving our lacklustre infrastructure and skills system."