UK retail sales revival 'illusory'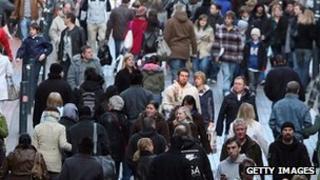 Any revival in sales on the UK High Street "remains illusory", the British Retail Consortium (BRC) has warned.
It comes as the BRC's latest monthly figures showed that like-for-like UK retail sales - which pulls out new store openings - fell 0.3% last month, compared with February 2011.
It added that while food sales rose, helped by people stocking up in the very cold weather, sales of non-food goods continued to fall.
The BRC said total sales rose 2.3%.
'Household squeeze'
Stephen Robertson, director general of the BRC, said a number of factors were continuing to cause consumers to be cautious.
"Falling inflation has eased the squeeze on household finances and halted the slide in consumer confidence, but that's at risk from fuel price rises and Budget uncertainty," said Mr Robertson.
"Unemployment is expected to rise further, causing increased nervousness about job security, which is keeping confidence fragile."
The BRC added that sales of non-food goods via the internet, mail order and telephone rose 9.9% from a year earlier, which was a slowdown on growth of 11.3% in January, and 18.5% in December.
The latest figures from the BRC follow after the most recent official data from the Office for National Statistics showed that retail sales rose 0.9% in January compared with December.
Helen Dickinson, head of retail at accountancy group KPMG, which co-partners the BRC's survey, said: "Consumers remain reluctant to spend unless encouraged by promotional activity.
"Thus, while the market is still growing slightly in headline sales terms, profitability continues to be eroded through loss of margins."
Mr Robertson called on the government to do more to help the retail sector.
"In this climate of continued caution, the chancellor must use the Budget to hold back business costs, which support jobs, growth and the much-needed consumer turnaround."