Expert witnesses accused of 'industrial scale perjury'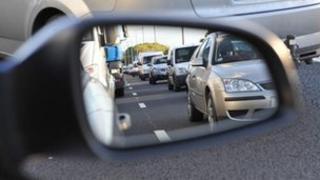 Some 20,000 court cases may have to be re-heard and seven expert witnesses could be jailed over allegations they lied in court about hire car prices.
The witnesses worked for Autofocus, which researched car hire prices for insurance companies.
Investigators allege witnesses overstated figures to back insurance companies claiming they were overcharged by hire firms.
Autofocus has gone into liquidation and was unavailable for comment.
The case is at the heart of a long-running battle between insurance firms and credit hire companies, which supply replacement vehicles to drivers involved in accidents.
The dispute concerns the cost of high-end replacement vehicles - if a driver is not at fault for an accident they are entitled to a like-for-like vehicle while their own car is being repaired.
The allegations emerged after an Autofocus researcher pleaded guilty to faking figures presented in court to back an insurance firm's claim it had been overcharged for hire car rental.
Falsified evidence
Helen Whysall from Nottingham was given a 28-day suspended sentence after a court heard she lied about calling several High Street hire car companies in order to find the going-rate for the hire of a top-end Mercedes car which would only have been available at a small number of companies.
The case was brought by Steve Evans of West Midlands-based credit hire company Accident Exchange which supplies prestige cars made by companies such as Mercedes, Aston Martin and Ferrari.
After discovering falsified evidence had been presented in one court case, Mr Evans decided to find out if researchers working for the same company had lied before by asking the courts to grant him access to data on Autofocus company computers.
Accident Exchange had repeatedly faced accusations from insurance firms, who said the claims the company were submitting to reclaim the costs of leasing cars were too high.
The insurance firms pointed to the reports supplied by Autofocus, which often quoted a much lower price. However, it is claimed Autofocus did not actually conduct the research to establish the hire costs or omitted some quotes from their reports.
After examining Autofocus company data, Mr Evans says he discovered about 20,000 cases affecting about 40 different credit-hire firms where he believes data has been faked. Some 5,000 of the cases concern Mr Evans' company, Accident Exchange.
As a result of the release of the computer data, a further seven Autofocus employees are now facing similar contempt proceedings after a High Court judge agreed to allow a case against them to proceed.
After examining Mr Evans' evidence, Lord Justice Moses said: "If proved, it is difficult to think of a more serious conspiracy. We are talking about industrial-scale perjury."
Mr Evans estimates his company lost £1.7m in one month and had to lay off 300 members of staff because of repeated challenges by insurance companies which used Autofocus expert-evidence reports to persuade civil court judges the company's charges were over-inflated or unreasonable.
Other credit hire companies have also complained they were losing money because of repeated challenges by insurance firms.
Several insurers including the Royal & Sun Alliance and Allianz have reached out-of-court settlements with Mr Evans' company, to the tune of £4.5m.
Neither Royal & Sun Alliance or Allianz would comment on the payment or their use of Autofocus reports.
Martin Andrews of theCredit Hire Organisationsaid if the scale of the case proves to be as big as Mr Evans' evidence would suggest, it would have major implications for the insurance industry.
He said Mr Evans' company and others like it could have lost many millions of pounds in disputed claims and associated court costs as well as jobs.
A spokesman from the Association of British Insurers said: "The insurance industry continues to work with the OFT (Office of Fair Trading) and will fully co-operate with this on-going investigation."
The OFT is currently, and expects to report in later in the year.
Find out more on5 live Investigateson Sunday, 11 March at 21:00 GMT onBBC 5 live. Listen again via the5 live websiteor by downloading the 5 live Investigatespodcast.