Goldman Sachs posts its first loss in Asia since 2008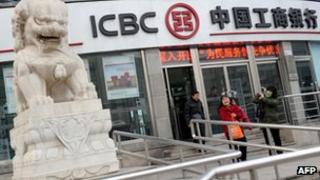 US investment bank Goldman Sachs swung to a loss in Asia for the first time since 2008 following declines in the Chinese stock market.
Goldman's Asia division posted a loss of $103m (£65m) in 2011, compared with a $2.1bn profit in 2010.
The firm was hit by a dip in the value of its holdings in Industrial & Commercial Bank of China (ICBC), which generated a loss of $517m.
Chinese banks stocks were hurt last year amid fears over bad loans.
The fears were fanned further by concerns that the eurozone debt crisis and a weak recovery in the US might also hurt China's economic growth.
As of November last year, Goldman held just under a 10% stake in the Hong Kong-listed shares of ICBC, which is China's biggest bank.
'Significant decline'
According to Goldman's annual filing with the US Securities and Exchange Commission, its net revenues fell 46% to $3.86bn in 2011, down from $7.15bn a year earlier.
The fifth-biggest US bank by assets attributed the decline to poor investor sentiment.
"The decline in net revenues in Asia compared with 2010 primarily reflects lower results in investing and lending, principally due to losses from public equities, reflecting a significant decline in equity markets in Asia during 2011,"the firm said in its annual filing.
Asian stock markets closed mostly in the red last year because of volatility stemming from the European debt crisis.
Chinese shares were among the worst hit. The benchmark Shanghai Stock Exchange Composite Index shed 22% while Hong Kong's Hang Seng Index fell 20%.