Debt services such as payday loans 'poorly regulated'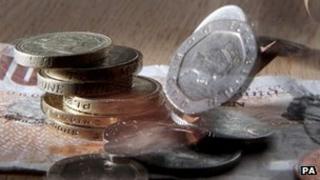 Parts of the credit industry are "opaque and poorly regulated" and require swift action from the government, MPs have said.
The rollover of payday loans, causing debts to spiral, should be limited, according to the Commons' Business Committee.
Meanwhile, the regulator should have a fast-track system to suspend credit companies' licences, the MPs said.
Vulnerable people were at risk during tough economic times, they warned.
'Swift action needed'
The committee concluded that the regulator should have the power to ban "harmful products" that put customers unfairly into debt.
Concerns were also raised about payday lenders that offer short-term, high-interest loans to consumers, with the suggestion that the money is paid back within a month.
The rollover of these loans for month after month should be limited, the committee said.
The Office of Fair Trading is already investigating the tactics of the payday loan industry in a review expected to be completed later in the year.
The committee also called for upfront fees to be phased out by debt management companies, which charge to offer advice to individuals on dealing with their debts.
"During these difficult economic times, increasing numbers of people up and down the country - not least some of the most vulnerable members of our society - are relying on the provision of consumer debt management services and payday loans to make ends meet," said the committee's chairman, Adrian Bailey.
"Yet this industry remains opaque and poorly regulated. The government must take swift and decisive action to prevent firms from abusing the needs of such a vulnerable customer base."