New twist in 'energy saving' scam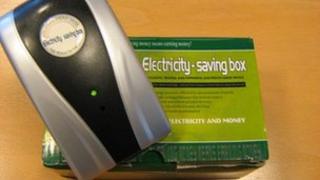 Victims of an "energy saving" device scam are being targeted for a second time with bogus offers of compensation.
Elderly householders have been receiving phone calls from con-artists selling a plug-in gadget which is claimed to cut electricity use.
Officials say the gadget is unsafe, and now a bogus claims management company has been calling to offer compensation.
But victims never receive the compensation and end up paying about £300 for "administration" costs.
Dangerous
The extent of the original scam became clear in December, when trading standards officers warned that the gadget could cause a fire or electrocution.
In the scam, which is continuing, the fraudsters appear to make their calls from abroad, offering to sell a device for £99.
When the scammers call they seem already to know the householder's name and address, energy supplier and even their credit card or debit card details.
In the latest twist, victims of the original scam have been called by a company offering compensation of up to £3,000.
"Just like with the first scam, where consumers are cold-called to buy the energy savings device, the caller appears very credible and has a lot of information about the person they are calling," said Sue Jones from Westminster Trading Standards.
"Victims have told us the caller claims to be working in conjunction with the 'fair trading people' and in some instances even names the company that originally sold them the device."
'Classic scam'
The victim is instructed to purchase a money transfer voucher of approximately £300 to cover administration fees and to call the claims management company back with the voucher code. Those who have purchased the voucher have failed to receive their compensation cheque.
The company claims to have an address in London, but these premises are vacant.
"We are very concerned about the way these criminals are now targeting their past victims, taking advantage of the publicity given to their original scam, while continuing to lure in cash-strapped consumers with their promise of energy savings," said Ron Gainsford, chief executive of the Trading Standards Institute.
"We would urge consumers not to hand over money to anyone who asks for an upfront payment before awarding compensation.
"This is a classic scam scenario used by criminals in different guises. They dangle a carrot to obtain some money from the consumer and then vanish. Genuine companies would never ask for money upfront before handing over compensation."